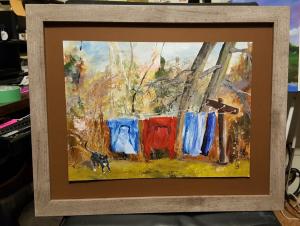 If you are an avid painter, I bet you have lots of completed pieces laying around just waiting to be framed. You would much rather be painting and creating than the tedious task of framing. Anyone relate? Well, that's my story for sure. Its not that I mind the framing, its the gathering of materials and putting everything together to do this task. Once I actually, get a piece matted and framed, it is very satisfying. I need to work on this part of my process.

Yesterday, I bought 20 frames and am in the process of actually completing some of my work. I discovered that I really like the "floating mount" idea. For many of my pieces that is ideal. Well, I haven't the first clue in how to go about doing this. In my typical fashion, I just did it.

The picture here is an example of a Floating Mount. Its 12 x 16 on canvas in a 16 x 20 inch frame. I was pleased with myself for completing this task. In the process of hanging it in my hallway, and I should of used two hands. Low and behold, it slipped out of my hand and fell to the floor. I damaged the frame and the image came loose from the mat board. This is the reason for my post.

I learned that the green gorilla painters tape is probably Not the best adhering material. So out of this "slip up" this morning, I researched the process of Floating Mount and I thought I would share that with you.

I discovered that it is important to use an archival bonding material and the most recommended one is: filmoplast. I found some on Amazon. Neschen Filmoplast P Archival Mending Tape, 1"x100' for $17.98. It is also helpful to have a burnishing bone to adhere the tape for added strength. Those are also easy to find on Amazon.

Just the bit of information was all I needed. Can't wait for these two items to come in so I can get framing.

Hope this bit of information is helpful and you too can start completing your art projects!!!